King Air 350i – Best of the Best
The Beechcraft® King Air® 350i surpasses its predecessor's high-caliber performance with more payload capability and range, a quieter interior with standard Wi-Fi, and Pro Line Fusion™ avionics with full touch-screen simplicity. The King Air is the world's most popular business turboprop aircraft – a title never simply granted, but earned again and again with continuous enhancement over five decades. The King Air 350i. True to its legacy of innovation.

A modern cabin that optimizes leg, shoulder and headroom is complimented by fine leathers and attention to detail.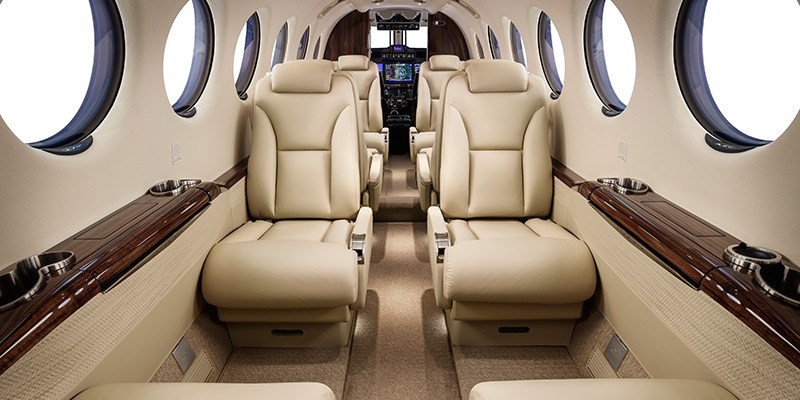 Specifications
Performance Without Compromise
Dimensions
Length
46 ft 8 in (14.22 m)
Height
14 ft 4 in (4.37 m)
Wingspan
57 ft 11 in (17.65 m)
Wing Area
310 sq ft (28.8 sq m)
Wheelbase
16 ft 3 in (4.95 m)
Tread
17 ft 2 in (5.23 m)
Cabin Interior
Height
57 in (1.45 m)
Width
54 in (1.37 m)
Length
19 ft 6 in (5.94 m)
Maximum Passengers
11
Baggage Capacity
Weight
1,150 lb (521.6 kg)
Volume
71 cu ft (2.02 cu m)